Purchasing a Reach International Roaming pack is super simple. Below is a step-by-step guide:
Step 1:
Open the Reach app and click on Services in the menu.
Step 2:
Click on International Roaming.
Step 3:
Read through the intro screen that talks about how International Roaming works. At the bottom click on 'Awesome! Let's go'.
Step 4:
In the next screen, enter your travel details - destination (you can enter single or multiple destinations), travel dates and group members who are traveling.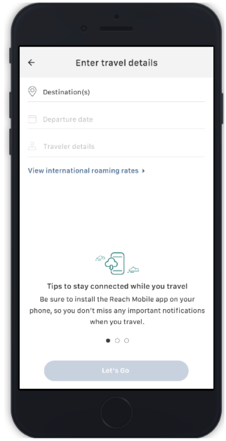 Step 5:
Next, you will be directed to a confirmation screen with all the travel details and estimated International Roaming charges. You can set your data usage limit against each traveler in this step. Once you have done that, click on Confirm and proceed.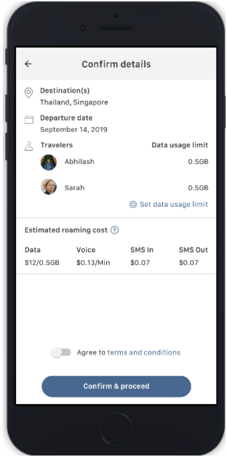 Note: 'Data usage limit' lets you set a limit to the maximum data you can use during your trip so that you never have to worry about exceeding your budget.
__________________________________________________________________
And that's it! You have purchased International Roaming for your trip.
You can manage your trips any time in the 'Manage International Roaming' section on the app.